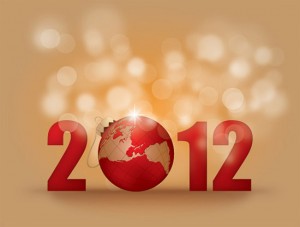 The sun is setting on 2011 and 2012 will be dawning very soon. 2011 was filled with many significant events that will have an impact for years to come. In many ways, 2011 was the year of the protester. There were many political uprisings across Northern Africa and in the Middle East. Some of which led to the ousting of longstanding monarchies and dictators. The Occupy Movement on Wall Street, across the U.S. and in other countries led a rallying cry against big financial institutions and accused them of creating widespread economic inequality, thus putting a spotlight on the ever-deepening gap between the very wealthy and the poor. In 2011, hunger still existed in epic proportions. Somalia faced one of the largest humanitarian crises resulting in over 300,000 children in danger of dying from starvation. In Haiti, many are still impoverished after the devastating earthquake in 2010. Sadly, in 2011 there were new earthquakes that happened in Chile, Japan, Turkey and New Zealand which led to the loss of many lives. There was even an earthquake that briefly shook Washington DC. A rare event for the east coast that was in most cases a slight tremor, but was still strong enough to leave cracks the Washington Monument. On the other hand, there were some great things that happened in 2011. Innovations in technology were constant and continued to "wow" us. The United States officially declared an end to the war in Iraq and troops were sent home. The job market got a little better and many Americans were able to emerge from unemployment. God did amazing things in 2011. Just as in years past, God was worshiped, praised and given glory in 2011. God's grace and love remained constant in 2011 and compelled many people to be drawn to him and accept his plan of salvation through his Son, Jesus Christ.
I prayed for clarity about what to write in this final post of the year. I believe I am led to write this post for two reasons. The first reason is to encourage Christians to be authentic in their walk with the Lord. I am led to write about authenticity because God is instilling in me to be more authentic in my walk with him. The second reason is to encourage Christians to be united in prayer for the church. As I mentioned, 2011 was the year of the protester. People put their lives on the line to stand for what they believed in with persistence, passion and authenticity. Now I don't condone all of the causes or the methods used by those who protested, but I believe the church (which I believe is an assembly of believers who solely trust in Jesus Christ as Savior and Lord) can be just as radical in our stance for Jesus Christ if we are united in prayer and through some relevant self-examination, we focus on the purpose that God has intended for the church. Here are some things that I am led to pray for individually and for the Christian church at large.
Pray for a Romans 12:1-2 frame of mind individually and for the church. "Therefore, I urge you, brothers, in view of God's mercy, to offer your bodies as living sacrifices, holy and pleasing to God—this is your spiritual act of worship. Do not conform any longer to the pattern of this world, but be transformed by the renewing of your mind. Then you will be able to test and approve what God's will is—his good, pleasing and perfect will."
Pray for authenticity in the body of Christ. Without authenticity the church lacks spiritual credibility. James 1:22-25

(

NLT) says, "But don't just listen to God's word. You must do what it says. Otherwise, you are only fooling yourselves. For if you listen to the word and don't obey, it is like glancing at your face in a mirror. You see yourself, walk away, and forget what you look like. But if you look carefully into the perfect law that sets you free, and if you do what it says and don't forget what you heard, then God will bless you for doing it."
Pray for unity in the body of Christ (1 Corinthians 1:10). D.A. Carson said, "What binds us together is not common education, common race, common income levels, common politics, common nationality, common accents, common jobs, or anything else of that sort. Christians come together because they have all been loved by Jesus himself. They are a band of natural enemies who love one

another for

Jesus' sake." True unity in the Church can only be obtained under the banner of the Lord Jesus Christ as we are united in love for his sake and his glory.
Pray that we love, help and encourage one another. In John 13:34-35

(

NLT), Jesus says, "So now I am giving you a new commandment: Love each other. Just as I have loved you, you should love each other. Your love for one another will prove to the world that you are my disciples." The command that Jesus gives us in this verse of scripture is so powerful. To truly love one another, we have to put all differences aside and look to Christ as our example. His expression of love toward us is so undeserving, yet given so freely. Romans 5:8 says, "But God demonstrates his own love for us in this: While we were still sinners, Christ died for us." Thus, the demonstration of our love toward one another will draw the unbelieving world to Jesus Christ.
Pray for Accountability. Ephesians 4:25 says, "Therefore each of you must put off falsehood and speak truthfully to your neighbor, for we are all members of one body." I'm not suggesting that we each take on the role of the Holy Spirit or be the "spiritual police" in the lives of others. However, I am thankful for the people who God has placed in my life that has made me accountable spiritually through love and truthful instruction.
Pray for fulfillment of the Great Commission (Matthew 28:18-20). Let us pray for boldness to share the Gospel of Jesus Christ locally and abroad. If you don't know how, read the Evangelism Series posted some time ago. Additionally, the church has a responsibility after someone is led to Christ to teach, disciple and baptize. By doing this, the Gospel of Jesus Christ will continue to grow and flourish. In addition, pray for the church to remember those on the fringes of society. See Matthew 25:31-40, 1 John 3:17 & 1 Timothy 6:17-19.
Pray for the courage to stand firm on the truth of God's word. Compromising God's truth to keep the peace equals false unity. I'm not saying that the church has to be combative or be militant. Let's remember that we build bridges across religions, not to have interfaith worship on what we agree on, but to share the love of Jesus Christ with gentleness and respect.
Pray for the bursting of Christian

bubbles

. Sometimes we become so exclusive in our associations and attachments. Our Christian life feels very safe when we are within the confines of the church. We can become too comfortable with the social aspects of church and lose focus to the fact that there are lost people all around us. I've also noticed that socially, the church sometimes imitates the world.  There is so much cliquishness in the church.  I've never understood the philosophy behind cliques and the fact that they exist in the church completely boggles my mind. Beloved, Jesus Christ is coming back soon and your local church is not heaven, a country club or the extent of your existence as a Christian. Let's pray for a kingdom focus for the church.  Jesus

was often called

a friend of sinners (Luke 5:29-30 and Luke 15:1-2).   He not only preached in the synagogues, but also went out to places where people needed to hear the Good News.  We should follow this example.  Christians must rely on the Holy Spirit to be focused inward when helping and fellowshipping with other Christians. In addition, Christians must rely on the Holy Spirit to be focused outward to be successful in determining when evangelistic and outreach opportunities are present.
Pray for our Pastors and Church Leaders to live according to the Holy Spirit's direction (Galatians 5:25) and worthy of their calling (Ephesians 4:1). Pray for them to accurately present the truths of Scripture (2 Timothy 2:15). Pray for God to grant them wisdom. Pray for their families and for their protection.
Pray for the proper equipping of the church. In order to do any of these things, we must know what we believe. 2 Timothy 2:15 says, "Do your best to present yourself to God as one approved, a workman who does not need to be ashamed and who correctly handles the word of truth." I want to understand scripture more deeply and be like the Bereans (Acts 17:11) who with great eagerness examined the scriptures every day to decipher truth from error.
These are the areas that I am led to pray about in 2012. These are not criticisms, just things I am led to pray about and they pertain to me as well. 2011 was a great year. God did such wonderful things in my life and in the lives of others. I hope that as you read these areas of prayer, that you will feel led to pray with me in 2012.
Dear Heavenly Father,
I pray for the church at large that you fill us with the knowledge of your will through all spiritual wisdom and understanding. And I pray this in order that the church may live a life worthy you and may please you in every way: bearing fruit in every good work, growing in your knowledge, being strengthened with all power, according to your glorious might so that the church may have great endurance and patience, and joyfully giving thanks to you, who has qualified the church to share in the inheritance of the saints in the kingdom of light. For you have rescued us from the dominion of darkness and brought us into the kingdom of your Son, Jesus Christ in whom we have redemption and the forgiveness of sins. It is in Jesus' name that I pray… AMEN!!! (Colossians 1:9-14)
Happy New Year! May God bless you!