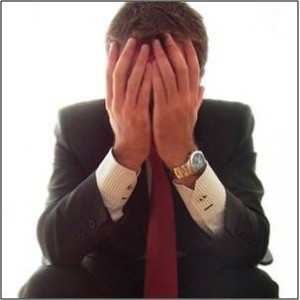 I remember as a little girl watching ABC's Wide World of Sports on Saturday afternoons. I wasn't a sports fan, but I loved the intro to this program which featured sports footage accompanied by Jim McKay's powerful and dramatic narration. "Spanning the globe to bring you the constant variety of sport! The thrill of victory! And the agony of defeat…" Seconds before Jim McKay said "and the agony of defeat" there was a sudden blast of descending orchestral music with a visual of a 20-year-old ski jumper ferociously plummeting out of control off of a ski ramp into a crowd of spectators. I can imagine at that moment in time that ski jumper must have felt extreme defeat, embarrassment and failure. Click here to look at the video footage for yourself. It's incredible to watch! I'll talk more about this ski jumper's story later in the article.
In our personal relationship with Jesus Christ we may have the best laid plans in place, but similarly suffer loss and experience trials and disappointments that can lead to feelings of defeat that make us feel like our lives are tumbling out of control. For whatever reasons we experience difficulties, God is there in the midst of it all. He loves us and provides us with comfort. Jesus said in John 16:33(NLT), "I have told you all this so that you may have peace in me. Here on earth you will have many trials and sorrows. But take heart, because I have overcome the world." Because of this, feelings of defeat should only be temporary and diminish as we draw closer to God for strength, peace and deliverance during hard times.
Why does God allow suffering? After all, he has the power to stop all suffering instantly. The truth is, God never intended for us to suffer or feel defeated. Suffering began when sin entered into the world (Genesis 3:1-13) and the consequences of sin immediately followed (Genesis 3:16-19). There are also so many things in life that occur that are beyond our control. We experience illness, loss of employment, loss of finances, loss of loved ones and other things that make us feel defeated. The Bible says when these things happen, it's for our good (Romans 8:28) and that we should consider it pure joy (James 1:2). These can be difficult passages to receive if we're trying to tackle difficult circumstances in our own strength or if we choose to focus on our circumstances rather than focusing on God. God does not enjoy seeing anyone suffer pain, disappointments and tragedy. But on the other hand, how can we truly experience the power of God and exercise our faith if we do not experience trials and difficulties? God uses difficulties to bring us closer to him and we are blessed by his faithfulness, grace and deliverance. He even uses pain and tragedy to bring unbelievers to faith in Jesus Christ. Whatever we go through, God will give us the peace to endure if we stand on his promises and trust him. Isaiah 26:3-4 says, "You will keep in perfect peace all who trust in you, all whose thoughts are fixed on you! Trust in the Lord always, for the Lord God is the eternal Rock."
The Apostle Paul suffered great affliction for the advancement of the Gospel. In 2 Corinthians 1:3-11, Paul describes the severe hardships that he experienced in the Province of Asia. In light of all that happened, he begins verse 3 by saying, "Praise be to the God and Father of our Lord Jesus Christ, the Father of compassion and the God of all comfort." Then in verses 4-7, Paul talks about how the suffering and difficulties of each Christian is a benefit to the entire body of Christ "so that we can comfort those in any trouble with the comfort we ourselves have received from God". There are many occasions when can take our "misery" and use it as a "ministry" to help others who are struggling through similar circumstances. In addition, our suffering produces endurance and perseverance. In verse 9-10, Paul talks about how he relied on God and not himself while facing adversity.  He also speaks of God's deliverance from almost impending death and in verse 11 he mentions how the prayers of the believers were answered and helped in the advancement of the Gospel. Paul says that his confidence and hope is continuously in God's deliverance. What a great example of reliance upon God despite strenuous circumstances!
We must also be alert and recognize that a battle is being waged against us to hinder our testimony and purpose that God has for our lives (Ephesians 6:12). Satan and his demonic forces are waging this battle against us. 1 Peter 5:8 says, "Be self-controlled and alert. Your enemy the devil prowls around like a roaring lion looking for someone to devour." Satan was defeated forever when Jesus died and rose again. Yet in light of Satan's eternally defeated condition (Luke 10:18; John 12:31; Rev 12:9; Rev 20:10), he will do all that he can to make us feel defeated and lose confidence in the Lord. If you are experiencing a satanic attack, claim God's promises (Romans 8:31, Isaiah 54:17, Psalm 23:4). Stand in the power and authority of the Lord Jesus Christ and do not run away and retreat. Pray for God's protection over your life and ask him to help you persevere when facing difficulties.  Ask God to reveal areas of weakness in your life. Pray on and put on the whole armor of God (Ephesians 6:10 – 18). When Jesus was tempted in the desert by Satan (Matthew 4:1-11), he was armed with the word of God. God has given this to you to use as a sword. It's important to remember that you cannot effectively use the armor that God has provided for you if you do not recognize that you are in a battle and as a result, you will suffer defeat again and again.
Although a spiritual battle is being waged against believers, not all defeat can be attributed to spiritual warfare. Ephesians 4:27 says, "do not give the devil a foothold". Feelings of defeat may require some self-examination and seeking the Lord to know if our motives and desires line up with his will and timing. Also, leading a life of prayerlessness, submitting to sin and fleshly desires, lack of intimacy with God and complacency in studying the Bible can result in a defeated and spiritually unfulfilled existence. All of these things leave a gaping hole in our spiritual armor giving the enemy a clean shot. James 4:7-10(NLT) says, "So humble yourselves before God. Resist the devil, and he will flee from you. Come close to God, and God will come close to you. Wash your hands, you sinners; purify your hearts, for your loyalty is divided between God and the world. Let there be tears for what you have done. Let there be sorrow and deep grief. Let there be sadness instead of laughter, and gloom instead of joy. Humble yourselves before the Lord, and he will lift you up in honor." If we suffer defeat because of any of these things, we have a loving Heavenly Father, who we can run to and ask for forgiveness. (1 John 1:9)
Now, getting back to the ski jumper mentioned at the beginning of this article. His name is Vinko Bogataj and he's from a central European country called Slovenia. I was surprised to find out that he only suffered a minor concussion from the traumatic spill he took off that ski ramp. Bogataj is alive and well, now in his 60's and still living in Slovenia with his family.   He never emerged as a great ski jumper and ultimately left  competitive ski jumping all together.   Here's what's interesting.   Bogataj was completely unaware that he had become somewhat of a minor celebrity in America until 1981 when he was contacted by ABC's Wide World of Sports for their 20th year anniversary celebration. He had absolutely no idea that the Wide World of Sports video footage of his failed ski jump was being viewed by millions of Americans every Saturday for years.  When he arrived at the celebration, he was treated as if he was a gold medal winning world champion. Everyone wanted to meet the man who survived that fearful ski jump. To top it off, Muhammad Ali, one of the greatest sports legends of all time asked him for his autograph.  What a surreal moment for him!  I imagine that he must have felt some sort of vindication of what he may have considered to be a huge failure from his past. I don't know where Bogataj stands with the Lord, but his story definitely bears some resemblance to Christian themes about how all things work together for our good.
In conclusion, whatever hardships, trials or difficulties that we may experience God is greater and uses these things to make us more dependent upon him. When we feel defeated, we can get back on track by living victoriously in Jesus, believing that he will comfort and help us. He is in control and greater than our circumstances. Be on guard. Stand firm in the faith. Be courageous. Be strong (1 Corinthians 16:13). Let's not get tired of doing what is good. At just the right time we will reap a harvest of blessing if we don't give up (Galatians 6:9). We are more than conquerors through him who loved us (Romans 8:37)! Lastly, if you're someone reading this that has never trusted in Jesus Christ as your personal savior I have some great news for you. God loves you so very much and has tremendous plans for your life. He not only wants to save you from your sins so that you can experience eternal life and be with him in heaven, but he also wants to be there for you through life's difficulties. Jesus said, "Come to me, all of you who are weary and carry heavy burdens, and I will give you rest. Take my yoke upon you. Let me teach you, because I am humble and gentle at heart, and you will find rest for your souls. For my yoke is easy to bear, and the burden I give you is light" (Matthew 11:28-30). If you've never trusted Christ before, I want to offer you the opportunity to hear the Gospel for yourself. Simply click here.