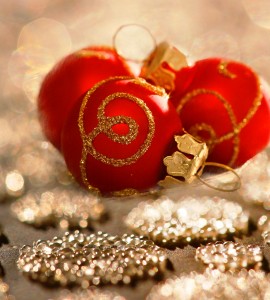 Keep Christ in Christmas!!! This time of year I see this phrase mentioned all over social media sites, on bumper stickers, on printed button pins worn on coat lapels, etc.  Sometimes Christians make an emphatic proclamation of the phrase MERRY CHRISTMAS to declare their opposition against statements like "Happy Holidays", "Seasons Greetings" or the use of "X-mas".  Some may even sanctimoniously blurt out MERRY CHRISTMAS after kindly being wished a Happy Holiday.  What we may not realize is that our approach to Christmas can be interpreted in a way that perhaps we did not intend and we become "that hostile Christian".   As a result, our passionate motivation to "Keep Christ in Christmas" has the opposite effect and instead of people being drawn by our actions they are repelled by our actions.  It's true that Christians should never be ashamed of the Gospel of Jesus Christ (Romans 1:16).  It's also absolutely true that Jesus is the reason for the season.  However, we must remember that those who are not in Christ may intellectually understand the Biblical story about Christmas, but they cannot grasp the spiritual and real meaning of Christmas (1 Corinthians 2:14). There will be opportunities, as we are led by the Holy Spirit, to take a stand for Christ.  But I believe that Christmas time is one of the best times of the year to gracefully explain the real meaning of Christmas. Truthfully, if we are keeping the love of Christ in Christmas, we are actually keeping Christ in Christmas.  So, instead of being preoccupied about the vernacular used to express Christmas greetings I challenge you to "Keep LOVE in Christmas".   Keeping love in Christmas can provide opportunities for you to share the real meaning of Christmas.
So, how can we keep love in Christmas?  There are many things that we can do.  We can show acts of compassion by helping someone in need.  At my church we provide a wonderful opportunity to invite friends, relatives, associates and neighbors to our Christmas production where the true meaning of Christmas is explained through drama, music and a sermon.  We can pray for salvation for the lost and as we are led by the Holy Spirit, we can share the Gospel and what Christmas is all about with unbelievers.  Here's how you can explain the reason why we celebrate Christmas.  As the Holy Spirit leads, you may be used by God to provide all or some of this information.  You may be used to plant or water a seed.  You may witness God supernaturally transform a person from death to life and receive salvation.  All that matters is your willingness to be used by God and trusting him and following his lead.
Explaining Christmas
During this time of year the real meaning of Christmas is sometimes overcast by material and commercial traditions.  Many of us, including myself take part in these traditions, but it is so important to take the time to reflect on what the true biblical meaning of Christmas is really all about. Maybe you're not sure what Christmas is really about.  Christmas is when the birth of the Lord Jesus Christ is observed.
What does the birth of Jesus mean?
Jesus' entry into the world was an extraordinary and miraculous event.  Jesus was born of a virgin.  "This is how the birth of Jesus Christ came about: His mother Mary was pledged to be married to Joseph, but before they came together, she was found to be with child through the Holy Spirit (Matthew 1:18)." God sent his Son who was sinless and perfect to be a sacrifice for the world thus conquering the sins that we cannot atone for ourselves. It is a fulfillment of prophecy and the promise from God outlined in many places in the old testament starting with Genesis 3:15 and including such scriptures like Isaiah 9:6 which says, "For to us a child is born, to us a son is given, and the government will be on his shoulders.  And he will be called Wonderful Counselor, Mighty God, Everlasting Father, Prince of Peace". 
This prophecy (Matthew 1:20-23) was spoken to Joseph by an angel of the Lord.  "But after he had considered this, an angel of the Lord appeared to him in a dream and said, 'Joseph son of David, do not be afraid to take Mary home as your wife, because what is conceived in her is from the Holy Spirit. She will give birth to a son, and you are to give him the name Jesus, because he will save his people from their sins.'  All this took place to fulfill what the Lord had said through the prophet: 'The virgin will be with child and will give birth to a son, and they will call him Immanuel'—which means, 'God with us.'"  At Christmas time we celebrate the fulfillment of God's grace as prophesied in the scriptures!
Jesus was born because God loves you!
Jesus was born to save the world from sin. He was born because God loves you and wants to save you!   He wants to have a personal relationship with you through his Son Jesus Christ. John 3:16, the most famous verse in the Bible says it all. "For God loved the world so much that he gave his one and only Son, so that everyone who believes in him will not perish but have eternal life." God's gift to the world was eternal life through Jesus Christ. Eternal life is a free gift given by the grace of God.
No one can earn the gift of eternal life on their own.
The Bible says in Ephesians 2:8-9(NLT), "God saved you by his grace when you believed. And you can't take credit for this; it is a gift from God. Salvation is not a reward for the good things we have done, so none of us can boast about it." This means that no one can earn a place in heaven by doing good works, having good conduct, going to church, being baptized or being a part of a religious group or denomination. No one can earn a relationship with God or save themselves by doing any or all of these things.
What does God want to save you from?
According to the scriptures, everyone is a sinner. The Bible says in Romans 3:23, "for all have sinned and fall short of the glory of God." No one has the power to pay for their own sins. The penalty for sin is eternal separation from God forever (Romans 6:23).  Only Jesus has the power to save us from our sins.
What did Jesus do after he was born?
This holy baby born of a virgin grew up and became a man. He was also God in the flesh (John 1:14). He was sinless and perfect (Hebrews 4:15). He preached the Gospel of salvation (Matthew 4:23). He willingly laid down his life for you and me in his death on the cross (John 10:17-18 & John 15:13). Three days later, Jesus rose from the grave (Matthew 28:1-10) and is alive and will return for those who turn away from their sins and trust him as Lord and Savior (Acts 1:9-11).
This is the real meaning of Christmas. God's grace and plan of salvation through his son, Jesus Christ is an incredible expression of his love and mercy. To me, it is the true meaning of life itself and the greatest Christmas gift of all!
How does a person have a personal relationship with God?
God loves you so very much. Even when you feel at your utmost lowest or feel like you cannot be forgiven, God loves you more than you know and has incredible plans for you. No person is beyond his love.
Accepting Jesus Christ as Lord and Savior is very simple. It requires turning away from your sins (repenting) and trusting (having faith) in Christ alone for eternal life. All you have to do is admit to God that you are a sinner and agree that your sin is separating you from him. Believe that Jesus Christ died on the cross to pay the punishment for your sins and was raised from the dead. You must be willing to turn your life over to God and give him control of your life. If this is what you want to do, all you have to say is a simple prayer like this:
"Dear God, I know that I am a sinner and cannot save myself. Today, I turn away from my sins and ask for forgiveness. I also place my complete faith and trust in Jesus Christ's death on the cross to pay the punishment for my sins and believe he rose from the dead. I accept Jesus Christ as my Lord and Savior. Dear God, take control of my life from this day forward and help me to follow your plan for my life. Thank you for saving me. It is in the name of Jesus that I pray. Amen."
In conclusion, there are so many opportunities to glorify God by keeping love in Christmas.  Christmas is a great time to plant and water seeds and even witness God give the increase in the life of an unbeliever.  The observance of Christmas comes once a year on the calendar.  But performing acts of compassion and explaining why we believe in Jesus are year round events.  I encourage you to always be ready to give an answer for the hope that is in you (1 Peter 3:15).  I also wish you and your family a very Merry Christmas and God bless you!